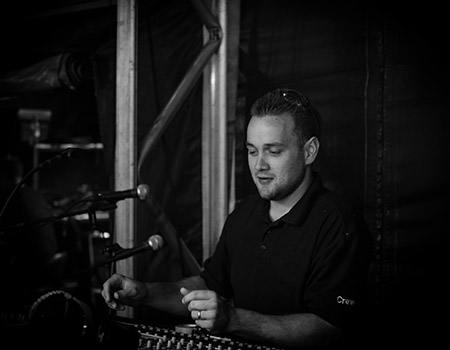 James started Entertec after several years as a freelance sound engineer, when an opporunity arose to acquire a small EAW inventory. After branching sideways in 2009 to start JT EventTruck, 2015 sees a significant re-investment in the PA inventory with L'Acoustics. Although work is a major part of day to day life, James occasionally ventures onto the ski slope, tinkles the ivories, and listens to Absolute 80's on repeat.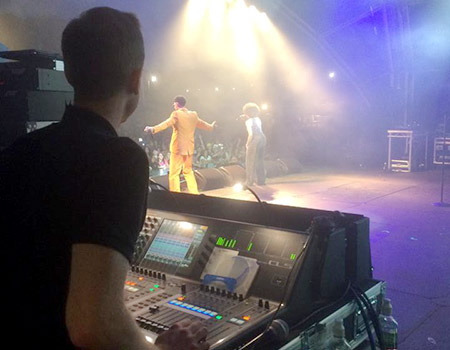 Jamie takes great pride in delivering a calm, naturally dependable persona in even the most pressing of situations. Since joining Entertec in 2010 his extensive musical background has proved invaluable on site, and also back in the office environment working with customers to create solutions suiting any space and any budget. When not at work, Jamie can often be found playing bass, working on his own band projects, and shopping for long coats.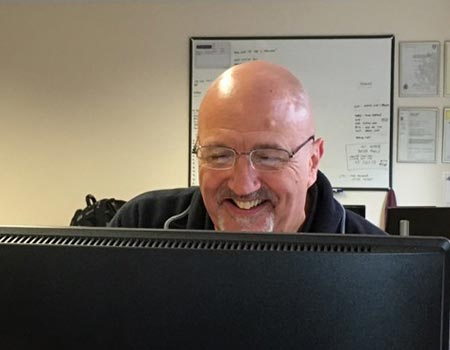 Mike joined the Entertec team in June 2016, bringing with him a weath of experience in audio, video, and event production – as well as introducing into the fold his own freelance contacts and ongoing client relationships. Mike's relaxed approach to providing technical solutions is the perfect compliment to all the day to day operations… although working with RentalPoint does provoke the occasional frown! Away from the office, Mike is an avid fan of cider, shopping for small useful gadgets, and enjoys taking his Honda Goldwing out for a spin in the sun.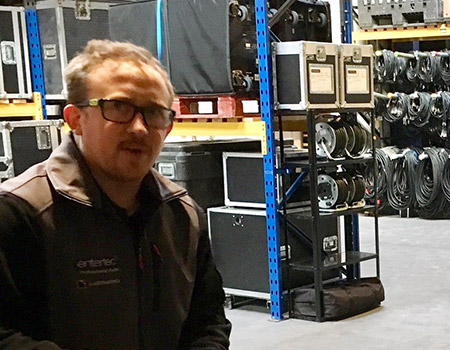 Adam Parsons
Audio Engineer
Having enjoyed several years as a freelancer on our books, Adam joined the full time team in September 2017. Fitting easily into the mix both in the warehouse and out on site, Adam has extensive experience with our inventory and already knows many of our valued customers – his relaxed demeanour and confidence on site now being welcomed even more regularly than before. Adam spends has spare moments checking up on his Santa Pod projects, frowning at LogicPro error messages, and working on his treasured classic Mini in time for the next London to Brighton race.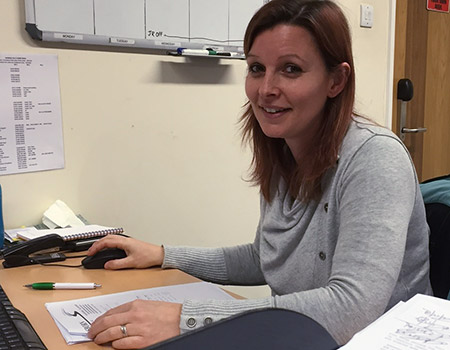 Jo McGuire
Office Administrator
As a full-time mother of two, Jo still manages to make time for keeping her other kids down at Entertec HQ in check. She makes sure everybody gets paid, everybody pays us, and harmony reigns supreme in all the back office activities. With a Transport Manager qualification and years of industry experience to boot, "Tacho Jo" also keeps the transport arm of the company running smoothly… and still manages to fit in playing competition hockey at weekends!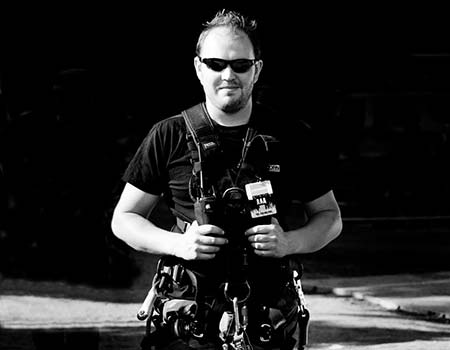 Dan Oswald
Lighting Technician
Freelancer Dan spends so much time at the office between tours he has his own desk! Working with our lighting partner Lightsmiths, Dan co-ordinates any lighting elements needed on an event, and now and again ventures over to the dark side when he is around long enough to come out on a sound job. Away from the office, Dan tours lights for Status Quo, plays with GoPro cameras, and walks his dog Winston.